Archive for August, 2008
August 13th, 2008
I haven't usually found checking my snail mail more compelling than sitting here checking my email (for hours on end), but when I saw yesterday on Alison Tyler's blog that she had received her contributor copies of Tasting Her (and Tasting Him, as she is in both of them), I rushed right downstairs to check my mail too! It hadn't come yet. But later when I scurried down there again (no, of course I wasn't standing outside watching for the mail truck to come…please), my contributor copies of Tasting Her were indeed there as well!
I want to point out immediately that in the table of contents, I am sandwiched directly between Alison Tyler and Thomas Roche…um, holy shit, what an amazing place to be!
As I said when I announced my acceptance into this anthology, this volume is full of incredible writers with whom I am honored to be in the same publication. Donna George Storey, Jeremy Edwards, Gwen Masters, the above-mentioned hot slices of bread in my table of contents sandwich of ecstasy, and the editor herself, Rachel Kramer Bussel, just begin to cover the list!
In addition, Rachel has named the October session of her New York-based In the Flesh reading series "Oral Sex Night" and has invited the authors in Tasting Her and Tasting Him to read. I am ecstatic to say that I plan to attend, and I actually plan to read too, though I haven't spent too much time focusing on that yet in case the chicken-shit tendencies that I highly suspect are lurking in me somewhere rear up and result in a frantic attempt to back out at the last minute. :) But anyway, I am thrilled to be going to New York for the reading — there will be a number of writers there that I have met online that I will be actually getting a chance to meet in person, which I am almost as excited about as the reading itself!
Tasting Her is available for pre-order on Amazon (should be out very soon even though the release date there says September) and through the publisher. It also has its own blog which can be found here!
Xoxoxo,
Emerald
"The characters here . . . have a thing or two to teach you about pussy power. Savor them and their adventures, as well as your own."
–
Rachel Kramer Bussel
from the introduction to
Tasting Her
August 5th, 2008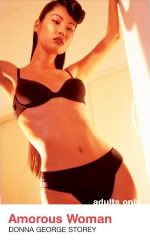 During the tumultuousness of last week and the week before, I was reading Amorous Woman, the debut novel of Donna George Storey. I started writing this blog moments after I finished the book last week after having stayed up past sunrise (that's right, the sun came up and I deliberately stayed awake) to do so. It had been hard enough during the week I was reading it to put it down when other things called; upon coming within the last 100 pages, I couldn't seem to bring myself to stop reading until there wasn't any more to read. I was interrupted similarly while composing this blog, but the book and my response to it have been somewhere in my consciousness virtually ever since I closed it that morning last week.
It so happened that I had begun reading this book during this time when I was experiencing particular intensity in my own experience. As I finished Amorous Woman, the two seemed, if not indistinct, somehow inseparable, as if my personal experience and what I had experienced reading the book had intertwined some way to create a unique manifestation either one on its own did not embody. What follows here is not a review (I am still working on figuring out how to succinctly convey the unspeakable beauty and poignancy of this book to accompany the unquestionable five stars on Amazon); rather, it is a personal account of my response to the work. As with many of my blog topics, it felt profoundly important to me and seems to be calling to be shared.
I knew some time ago amidst both the developing online acquaintance I had been having with the author and the reviews I had seen of Amorous Woman that I wanted to and would almost certainly eventually read the book. I don't believe I went into Amorous Woman underestimating it simply because it was categorized as a work of erotica. I would hope that, especially as a writer of erotica myself, I do not underestimate erotica just because it is erotica — fall for the all too common myth of believing that because something focuses on sex or is intended to arouse, its artistic or literary merit is inherently lacking (more on this in a bit). And it's not as though I was unaware of the brilliance of the author. I had been to her blog, read interviews with her (some specifically about the book in question), and had had the opportunity to communicate (electronically) with her personally. Further, I had read much of her short fiction and had no doubts about her literary talent.
But I didn't know she was going to do to me what she did. I didn't know that I was going to finish Amorous Woman in a state of breathlessness, reeling and stunned and speechless, rendered a way that select works of art throughout my life have rendered me. I didn't know she was going to do the same thing John Irving and Sue Monk Kidd and Victor Hugo and F. Scott Fitzgerald have done to me. What that is, I can't exactly explain, but I can say without hesitation that Donna George Storey did it to me too. It's something that leaves me seemingly beyond words (ironic) and deep in a haze of incredulity, yearning, gratitude, and ultimately, raw feeling. Like the simple act of reading has gone in and cut through anything that might have been blocking it straight to my heart, grasping it and pulling it back out and laying it in front of me, nothing left to cover something deep inside that has often remained covered. I cannot take it back, cannot undo it; I am unable to go back to where I was before.
The response from me was so profound that considering it now, it seems it almost overshadows my appreciation for the simple beauty of the writing, the strikingness of the imagery and opportunity to experience another culture so intimately, the incredible expression and examination of the characters through their virtually flawless presentation. It's as though something larger, perhaps all of those things seamlessly put together and thus forming something greater than the sum of its parts, is there for me, leaving me almost unable to step back and recognize and articulate these extraordinary aspects of the book as a creative work.
I understand there has been a resistance to and subsequent shortage of stocking this title on the actual shelves of bookstores due to its categorization as erotica — which I respond to with a combination of dumfounded bafflement, infuriated frustration, and frankly, heartbreak. The idea of people missing out on the experience of this book because of a pervasive ignorance (in regard to what is allowed to be classified as "literary") and a puritanical repressiveness (in regard to sexuality) in this society almost makes me want to cry. It also strikes me as a maddening irony that Donna is exactly the kind of artist who aims to and has delivered on the aim to propagate beautiful, exquisite art (in this case writing) that is sexually honest and explicit — yet (some) book retailers are failing to wake up to this, choosing instead to allow the drudgery of the woefully sexually repressed culture in which we live to perpetuate its disservice of failing to embrace this kind of artistic expression.
Amorous Woman and these surrounding circumstances make me realize even more how it is not that sexual explicitness and exquisite artistry are antagonistic or somehow mutually exclusive (not that I didn't already know that); it is that the stigma is so prevalent in society that they are that it seems to have discouraged large numbers of talented artists from creating art that includes sexual explicitness or the intent to arouse. Hearteningly, there are exceptions, and Donna has certainly demonstrated herself to be one of them. I know that furthering such art and thus decomposing said mythical preconception is a specific aim of hers, because I've seen her say it. This book is about as prime an example of such an achievement as I could conceive of.
I extend my wholehearted thanks to Donna George Storey for this breaktaking offering. To me, Amorous Woman is more than a book. It is a gift.
Love,
Emerald
"We need more writers willing to acknowledge that the sexual urge is as worthy of a complex literary treatment as anger, jealousy, ambition or love in its PG-rated form."
–
Donna George Storey
in an
interview with Maryanne Stahl