Archive for October, 2008
October 21st, 2008
Photo by Stacie Joy of In the Flesh readers 10/16/08
Okay, I've been slacking in my blogging about New York (as in, I hadn't done it yet). So here it is! As I mentioned in my last post, last week I went to New York to read from my story "Rain Check" in Tasting Her at Rachel Kramer Bussel's In the Flesh reading series. (The picture of me shown below was taken by the evening's photographer, Stacie Joy, as was the shot above of all the readers of the evening. The entire set from the evening may be found here.) Accompanied by my partner, who will for purposes of this post be referred to as Mr. Emerald, I flew in to JFK airport early Thursday afternoon and left early Saturday afternoon after two incredible days in the city that never sleeps (which it really does not appear to, from what I saw/heard).
First, we arrived too early to check in to our lovely hotel, so the staff held our bags and we went (since really we had little choice) for a walkabout around Times Square. Mr. Emerald spotted a Dave and Buster's and suggested we go "play video games" for a couple hours. Hmmm. Being unfamiliar with Dave and Buster's, I felt slightly nonplussed at the idea until we got inside, shortly after which time I started having a blast. (This was only partly due to the fact that I was actually the winner of one of our neon-tabled games of air hockey.) At the end of a couple hours there, we had an overflowing nifty plastic cup of tickets, accrued partly from my precise and undeniable skill and aim at such games as ski ball and air hockey rather than any random chance of an object such as a ball actually going somewhere near where I had aimed it. So we headed to the exciting little treasure shop holding a variety of prizes, some of which may have had a value of up to five dollars, and it was here that I was rewarded by spotting and having enough tickets for this shiny pink foam baseball!!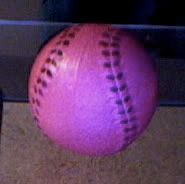 Yes, sometimes I am easily pleased…especially by things that are round, hot pink, or having to do with baseball — and this lovely prize was all three! Mr. Emerald got a baby hurricane glass (also very cute), and we headed off to the restaurant area for lunch.
Fast forward to the evening. By the time we got checked in to our lovely hotel (Hotel 41 at Times Square — we had a great experience there and I recommend it without hesitation), I deemed that it was time for me to start getting ready for the reading that night. I apparently did not deem this either early or efficiently enough, as I ended up being about an hour late for the pre-meeting gathering a few fellow writers and I had set up. However, I did start getting ready at that time, which began with one last practice read of the abridged version of my story to make sure it was under eight minutes. Then I did my hair, makeup, got dressed, etc., all under the delusion that we would walk outside to the corner, hail a cab, and be on our way.
This in itself is an indication of how familiar I am with New York. It was 6:15 on a Thursday evening in Times Square, and while there was more yellow from cabs visible in front of us than there was concrete on the street, all the ones that passed by already seemed to have someone in them. It was as though other people in New York wanted to go places at 6:15 in the evening too. We waited on the corner for almost a half hour before we managed to get a ride and try to find where we were going. By that time, I was already almost a half hour late. (Thank you to my fellow writers and their spouses for being so understanding of my utter ignorance of New York transportation realities and our resulting tardiness.)
So, about the time we showed up at the venue where the writers I was so excited to meet had already met, it was time for us all to take off to go to the reading. I got to quickly meet everyone before we left, and we all walked over together. I was immediately thrilled to be in the physical presence of Donna George Storey, Jeremy Edwards, EllaRegina, and Heidi Champa after reading their work and communicating online with them for weeks or months. I was also thrilled that they had so thoughtfully provided me with an hour and a half of pre-reading time in which to be late before I would have been late for the actual reading. Quite thoughtful for people who didn't even know me and my notorious historical propensity to run late yet.
Nine people were reading at In the Flesh that night, and the lineup had been sent to us beforehand. I was going second, immediately following Rachel herself as the first reader. I was having so much fun conversing with the aforementioned fellow writers as well as Heidi's and Jeremy's respective spouses (and Mr. Emerald of course) that I was still almost forgetting to be nervous. That didn't happen until Rachel was in the middle of her reading and I realized — I was next. A wave of last-minute nervousness washed over me, and I made eye contact with Heidi, who was sitting across from me (and was also reading that night), who read my expression and gave me a reassuring smile. Mr. Emerald, sitting beside me, sensed the nervousness in me as well and squeezed my hand supportively. His support this entire evening was unwavering, and I don't even know how to express how much I appreciated it.
I felt a little shaky as I stood up as Rachel started to introduce me. Among other things, I felt nervous that my reading might not be under eight minutes as we had been instructed to make them. The time had come out at 7:38 during my practice read in the hotel, but I fretted that there might be subtle differences in how I read during the performance that would somehow make it longer (this indeed did end up happening according to Mr. Emerald). But once I started reading, it seemed like I forgot everything but the words in front of me. The audience was lovely (and the venue seemed quite full), and I finished feeling energized and deeply grateful to have had such an opportunity — and of course relieved. :)
The awesome Jeremy Edwards high-fived me as I made my way back to my seat, and I think I grinned at that moment in pure appreciation of such a supportive audience and to know such wonderful, supportive fellow writers. After the reading, a few people approached me to tell me they had enjoyed my story. I felt enormously appreciative of and honored by that, and I blinked when a couple of them identified themselves and I recognized their names immediately as established erotica writers and/or sex bloggers. I realized I had almost forgotten I was in New York where it was not unlikely for such individuals to be in attendance, as so many of them live there.
After the reading, the same group of us (Donna and Heidi were also readers, Donna from the brilliant Amorous Woman and Heidi from her hot story "This Just In" in Tasting Him) went out for our post-reading gathering. I had so much fun it was incredible. Seriously, there was a connection there among all eight of us that I found delightfully amazing (or amazingly delightful) for eight people just meeting each other. Well, some of us weren't, since there were partners involved, lol, but many of us were meeting each other in person for the first time. I truly and invariably enjoyed everyone's company and marveled continually throughout the night at the gratitude I felt to have the opportunity to be there with all of them.
The next night was certainly a contrast in tone and style, but just as delightful (though I was sorry to miss Donna's Amorous Woman reading that night, which I didn't find out about until after our other plans were made). Mr. Emerald and I got very dressed up and went to dinner at Ruth's Chris steakhouse (holy amazing food) and then proceeded to Spamalot, which was not only delightfully entertaining but also full of bright glittery costumes, most of which I would now like to own.
So overall it was a stupendous time (which is great — I wouldn't have wanted to miss Kesrya's birthday party for anything less!). Many thanks to Rachel for her much appreciated oversight of In the Flesh, photographer Stacie Joy for taking pictures, Donna, Jeremy and Mrs. Jeremy, EllaRegina (to whom special thanks goes for all the planning and advice about our before and after meetings), and Heidi and her husband for their magnificent company and their time, and most of all to Mr. Emerald for accompanying me and being by my side throughout the weekend.
Love,
Emerald
P.S. I am told there will also be video from the reading, to which I will post a link here when I get it. :)
UPDATE: Video on YouTube may be found here.
October 15th, 2008
The week is finally here. On Thursday I am traveling to New York city to read (part of) my story in Tasting Her, "Rain Check," at Oral Sex Night of Rachel Kramer Bussel's In the Flesh reading series! I am so thrilled and grateful to have this amazing opportunity. If you are in the New York area, we would love to have you come out! You can find the information below or at the In the Flesh site.
In addition to reading, I will be getting to meet a number of other authors that I tremendously admire and am so very looking forward to meeting, including Rachel herself, the editor of Tasting Her and also the organizer and host of In the Flesh. Wow, wow, wow. I am looking forward to it all so much I've almost forgotten so far to be nervous about the reading in public part. :) (And of course I would prefer not to start now…we'll see how well that works out for me….)
So I picked up the dress I'm planning to wear from the cleaners today and have spent most of the night editing my story to fit the allotted reading time. The time is drawing closer. It has really snuck up on me — I made plans for this so many weeks ago, I can hardly believe it's almost here!
Before I take off, I would like to take this opportunity to give a happy birthday shout out to Kesrya, whose 30th birthday party I am very sorry to be missing this weekend. Happy, happy birthday dear!!!
And now it's off to New York for me!!
Love,
Emerald
IN THE FLESH EROTIC READING SERIES
ORAL SEX NIGHT
October 16th at 8 PM
AT HAPPY ENDING LOUNGE, 302 BROOME STREET, NYC